Build Bone with AdvaCAL®
You can build bone at any age with AdvaCAL.
Let us Prove it!*
AdvaCAL's Build Bone GUARANTEE*
HOW TO START:
1. Have a DXA scan that is less than 30 days old. If your DXA scan is older than 30 days, the guaranteed period starts with your next scan. You may start taking AdvaCAL before the guarantee period begins.
2. Take any AdvaCAL as directed on the label until your next DXA scan (between 6 and 24 months later). Keep dated original AdvaCAL purchase receipts as proof of purchase.
3. Get your follow up DXA scan from the same clinic as your first DXA scan.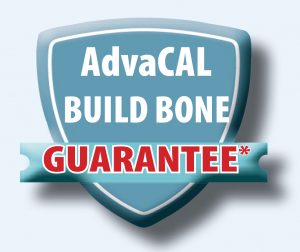 4. If your follow-up scan does not show a numerical increase in your hip and/or spinal bone density, LaneInnovative will refund ALL your AdvaCAL purchases (except for shipping and taxes) between those two scans. Simply supply LaneInnovative, with the two DXA scan doctor reports, purchase receipts and used AdvaCAL bottles.
Call 1-800-510-2010 for details.
5. You can continue with AdvaCAL's Build Bone Guarantee for any future DXA scans, following the same rules as above. The two most recent DXA scans will serve as the guarantee period.*
Exclusions to AdvaCAL's Build Bone GUARANTEE.*
( If any of these apply, AdvaCAL will still help minimize bone loss.)
1. Use of Following drugs that may dramatically weaken bone:
Synthetic Glucocorticoids (e.g. Prednisone)
Cancer Treatments
Heartburn Proton Pump Inhibitors (e.g. Nexium®, Prevacid® Losec)
Depo-Provera Contraception
Anti-seizure drugs carbamazepine (e.g Tegretol®) and phenytoin (e.g. Dilantin®)
2. Your First Five Years of Menopause, when bone loss is rapid..
There's ABSOLUTELY NOTHING TO LOSE AND BONE DENSITY
TO GAIN WITH AdvaCAL's Bone Building Guarantee.*
Call 1-800-510-2010 to start NOW!
Adequate Calcium with vitamin D as part of a healthful diet throughout life, along with physical activity may reduce the risk of osteoporosis in later life.