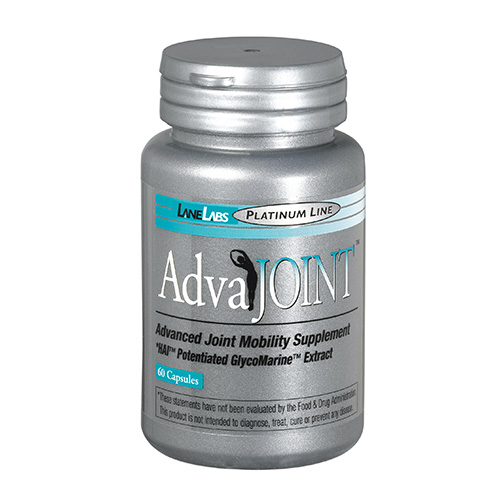 AdvaJOINT™
60 Capsules
1 to 5 Bottles
YOUR PRICE: $28.95
YOU SAVE: 22%
6 Bottles or More
YOU SAVE: $2 per bottle
YOU SAVE: 27%
Retail Price: $36.95
$28.95
SAVE EVEN MORE BY BECOMING A VIP
AdvaJOINT ….the joint formula to help keep you moving and bending comfortably!*
Description
AdvaJOINT is an advanced joint formulation containing GlycoMarine (green lipped mussel extract) to help keep you moving and bending comfortably all day.  GlycoMarine, a proprietary glycogen complex from the sea, is rich in DHA and EPA which help modulate neutrophil activity and prostaglandin production to support healthy joint movement. With 40 years of clinical research showing unique joint mobility benefits, GlycoMarine is the perfect ingredient for AdvaJOINT.  Plus, only AdvaJOINT adds a patented amino acid extract called HAI™ to GlycoMarine for advanced absorption.   If you have tried other joint formulas without success, it's time to give AdvaJOINT a try!*
AdvaJOINT: Advanced Joint Mobility*
AdvaJOINT goes far beyond mere joint support. It uses joint-lubricating nutrients to absorb shock, reduce wear and tear and support joint movement.*
During a 2006 national survey, approximately 30% of adults reported experiencing some kind of joint discomfort or stiffness (other than back or neck) during the preceding 30 days.  Knee, shoulder, finger and hip are the most frequently reported. No matter what causes joint discomfort or stiffness, it can be very bothersome.
Many joint products are available such as Lyprinol, Glucosamine, or Chondroitin. If you have used them but were not fully satisfied with the results, you may want to try AdvaJOINT with GlycoMarine.   That compound has 40 years of clinical research showing joint mobility benefits.*
GlycoMarine from the Sea
There is nothing new about the use of substances made from organisms found in the sea. For centuries, extracts of marine plants have been used. However it was not until the 1960's that serious exploration of the marine environment for substances exhibiting pharmacologically active properties was undertaken. GlycoMarine was introduced to New Zealand's general public in 1974 and as it has entered new markets around the world, it has gained a large and steadily growing following. GlycoMarine is extracted from the New Zealand green lipped mussel, Perna Canaliculus. At 18 months of age, the mussels are harvested exclusively from the Cromandel Coast. A liquid extract is obtained through a hydro-extraction process; the extract is snap-frozen and freeze-dried, producing the highest quality bioactive compound. Only mussels grown in government regulated marine farms in the clean unpolluted waters of coastal New Zealand are used in making GlycoMarine. GlycoMarine is a proprietary glycogen complex that has been clinically shown to aid joint mobility, helping to keep you moving comfortably.*
How does AdvaJOINT Work?
First, AdvaJOINT features a rich amount of DHA and EP plus  eicosatetraenoic acid, all of which modulate neutrophil activity and prostaglandin production to support joint movement.   Neutrophils are white blood cells that can inhibit mobility. Second, it contains glycogen and glycosaminoglycans. Glycogen is a complex sugar that works along with DHA and EPA to control neutrophil activity. Glycosminoglycans are polysaccharides that help support healthy production of synovial fluid (the shock-absorbing gel that fills the joint capsule). Finally, HAI, a unique amino acid extract from Japanese sea algae, is added to the GlycoMarine in AdvaJOINT . In research, HAI has been shown to enhance the bioavailability of difficult to absorb nutrients.*
Clinical Research
The GlycoMarine  in AdvaJOINT represents the culmination for 40 years for clinical research. In one double blind clinical study, people with long-standing joint discomfort were divided in two groups. Among those taking glycomarine 68% in the first group and 40% in the second group saw a significant improvement. A second study with 53 people measured the impact of taking Glycomarine for the knee. Participants experienced a significant improvement on 4 key measurement criteria and saw a positive trend on 3 others.*
Gastro Protective  
Unlike certain other joint products, AdvaJOINT also supports the body's  gastro protective properties.  By helping to protect your stomach lining, AdvaJOINT may be used on a long term basis without the complication of adverse side effects.*
Your results may vary.
Sources
National Health Interview Survey, United States 2006
Gibson RG, Gibsoon SLM, Conway V & Chappell D. Perna Canalliculus. The practicionner 224, 995-999,(1980)
Audeval B & Bouchacourt P. Double blind, placebo controlled study of the mussl perna canalliculus. La Gazette Medicale, 93 (38), 1986
DIRECTIONS
For best results take two capsules of AdvaJOINT twice daily for two months, then one capsule twice daily thereafter.
SUPPLEMENT FACTS
There are hundreds of joints in the human body – including 33 in each foot alone. Every single one of those joints requires proper nutrition to stay in good working order. The key ingredients in AdvaJOINT are backed by 40 years of research showing benefits in joint mobility and absorption.*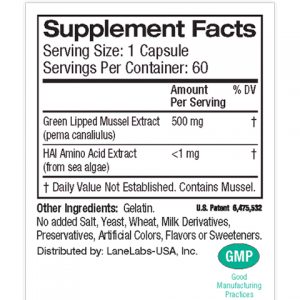 Among those taking Glycomarine in a clinical study, 68% in the first group and 40% in the second group enjoyed significant improvement. A second study with 53 people measured the impact taking GlycoMarine for the knee. Participants saw a significant improvement on four key measurement criteria and saw a positive trend on three others.*