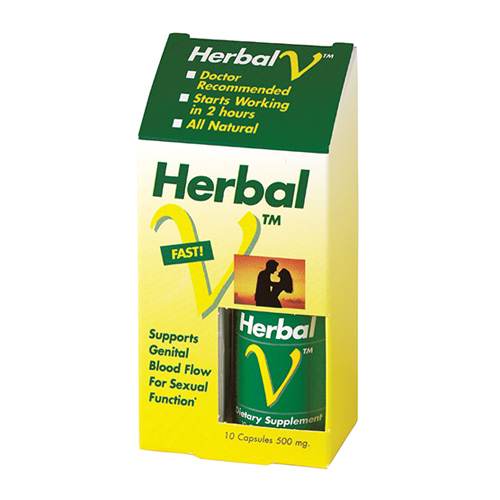 Herbal V™
10 Capsules
1 to 5 Bottles
YOUR PRICE: $16.95
YOU SAVE: 11%
6 Bottles or More
YOU SAVE: $2 per box

YOU SAVE: 21%
Retail Price: $18.95
$16.95
SAVE EVEN MORE BY BECOMING A VIP
Herbal V….man's secret weapon!
Description
Herbal V is a fast-acting natural supplement that helps SUPPORT GENITAL BLOOD FLOW FOR MALE SEXUAL FUNCTION! This scientifically balanced formula contains several different extracts (Yohimbe, Damiana, Saw Palmetto) along with Ginseng, Royal Jelly, Vitamins C and E, Zinc and Selenium…all working synergistically together for one purpose!*
HERBAL V….Helps Support Healthy Blood Flow in Males!*
Would you like to have the vim and vigor of a 30 year old, even if you are 40, 50, 60 or older?*

Herbal V can help.
Herbal V is a natural supplement that helps support Genital Blood Flow for male sexual function. Herbal V is a scientifically balanced formula of herbs, herbal extracts, vitamins, minerals and other nutrients.  Take one capsule upon need. Do not exceed 2 capsules daily.*
A Complete Formula
Herbal V contains Yohimbe (to help maintain dilation of the blood vessels). It also features antioxidants, such as vitamins A and E plus zinc and selenium. Other ingredients include Damiana (to support reproductive function), saw palmetto (to tone and maintain the male reproductive system and male hormones), ginseng (to promote sexuality) and royal jelly (for energy and vitality).*
Keep out of reach of children.  May cause elevated blood pressure and heart rate.  Should not be used by women or those with kidney disease or psychological disorders.
DIRECTIONS
Take 1 capsule two hours before anticipated need. Not to exceed 2 capsules daily.
SUPPLEMENT FACTS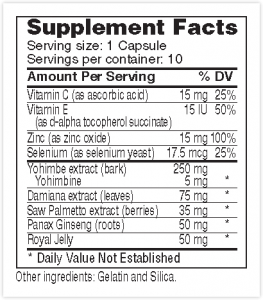 Additional information is available from the following sources:
YOHIMBINE: A SYSTEMATIC REVIEW AND META-ANALYSIS OF RANDOMIZED CLINICAL TRIALS J Urol ( 1998) 159 433-436
INFLUENCE OF ROYAL JELLY ON THE EXCRETION OF GONADOTROPHINS IN HEALTHY MALES Brastil Lek Listy (1972) Mar: 57 (3) : 349-52
TEXTBOOK OF NATURAL MEDICINE Pizzorno & Murray (1989)