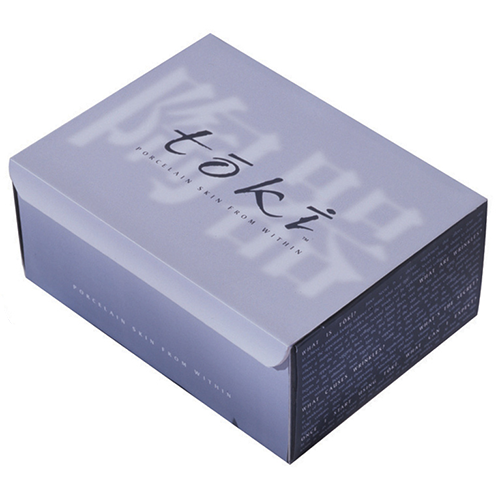 Toki™ (Powder Packets)
60 serving packets per box
1 and 2 Boxes
YOUR PRICE: $185.00
YOU SAVE: 8%
3 Boxes or More
YOU SAVE: $5.00 per box
YOU SAVE: 10%
Retail Price: $200.00
$185.00
SAVE EVEN MORE BY BECOMING A VIP
Toki….. For porcelain skin from within*
Description
Japanese women have been known for the splendor of their skin: clear and smooth, and radiantly healthful, alabaster in color. The Japanese call it "Toki." Rediscover youthful radiance with Toki, a lemon flavored collagen drink that replenishes skin from within. In just 14 days you may notice better skin tone, hydration and resiliency. In as little as 45 days, skin texture may appear smoother and tighter and the appearance of fine lines and wrinkles are diminished. As the nutrients in Toki are absorbed into your thirsty skin, the skin all over your body grows resilient again, becoming softer, more moist and firmer. In an 8-week study, the dermatological review found significant improvement of facial appearance in 2 weeks and after 8 weeks, found overall reductions in facial wrinkling and aging as well as reduced wrinkling and aging around the eyes. Self evaluations also noted dramatic decreases in sagging, puffiness and wrinkling around the eyes. With Toki, you can say "hello" to younger looking skin from head to toe.*
TOKI…Say goodbye to wrinkles, crow's  feet and age spots
– Rediscover  beautiful ,radiant skin from  within*
– Beautiful skin on the face and the entire body!*
– Results may appear in as little as 15 days!
Toki Collagen is a lemon flavored drink that was developed in Japan to provide absorbable collagen and essential nutrients to the deep layer in the skin known as the dermis. Clinically tested for wrinkles, age spots, hydration and natural radiance!*
Fighting the Signs of Aging
Beauty experts know that our bodies produce less collagen as we age. That can lead to fine lines, age spots and dry, tired looking skin. The challenge has always been to restore collagen levels, especially in the critical, deep layer of the skin…the dermis. Since most creams and lotions only penetrate the upper layer of the skin, this seemed like an impossibility.
That changed in 2002. A new, different collagen drink, called TOKI, offered the promise of porcelain skin from within. TOKI, developed in Japan, appeared to do what other skin products, including other collagen supplements could not.  It helped restore deep layer collagen levels.  As a result, a growing number of men and women, of all ages, have made TOKI part of their daily lives. Many have seen TOKI continually diminish wrinkles and age spots while enhancing overall skin glow, hydration and tone.*
Collagen to the Dermis
TOKI, a natural lemon citrus drink, was developed to provide absorbable collagen and essential nutrients to the deep layer in the skin. It is composed of a unique Collagen peptide, Vitamin C (ascorbic acid), Calcium (calcium oxide and calcium hydroxide) Glucosamine, HA (Hyaluronic Acid) and Dermantic Acid (Muccopolysaccharide Complex) and HAI (Heated Algae Ingredient). This collagen formula is water soluble and highly absorbable. The HAI, that contains approximately 47 amino acids, may facilitate absorption of the collagen. TOKI powder, mixed in eight ounce of water, delivers all of these essential nutrients to the dermis, traveling through the bloodstream, to bring nourishment to cells deep down where topical applications cannot reach.  Like water from an underground spring, the nutrients in TOKI are absorbed into the dermis and parched cells begin springing back to life.*
TOKI nourishes and replenishes the skin from within!*
Clinically Tested For Wrinkles and Age Spots
TOKI was the subject of an eight-week-long clinical study of 32 women between the ages of 35 and 65. The study results were published in the Journal of the American Nutraceutical Association (JANA) in 2002. Each woman was evaluated every two weeks for improvement in the soft tissue of the eyes, sagging, puffiness, wrinkles, and overall facial aging through a visual assessment scale, dermatological exams, and patient self-evaluations. Blood collagen levels were also tested during the first four weeks of the study.*
The dermatological review found statistically significant improvements in the soft tissue of the eyes, sagging, puffiness, wrinkling, and aging over the course of eight weeks. Patients saw improvements in their appearance and on average, blood collagen indicators increased by 114%.*
In addition, Medical professionals are finding that TOKI is useful as an adjunct to other forms of cosmetic treatment. Sylvan Bartlett, M.D. of Midland TX, starts patients, who have deep scars, on TOKI the same day they have laser resurfacing.*
Porcelain Skin From Within in As Little as 45 days!
TOKI reintroduces a youthful look and feel to skin with an extraordinary ingredient base that includes Collagen Peptide and Vitamin C to restore a more youthful quality. A mucopolysaccaride complex containing Hyaluronic Acid is then added for moisture retention. And this entire formulation is modified with HAI Amino Acid Extract, from Hijiki seaweed, for enhanced absorption. Skin tone, moisture level and resiliency are revived. In as little as 45 days, skin texture starts to become smoother and tighter, hydration and radiance improve and the appearance of fine lines and wrinkles may diminish.*
Toki is available in convenient, pre-measured single-serving packets to add to a glass or bottle of water.  Toki is also available in mini-tab form.  Both help you to achieve beautiful, youthful looking skin!*
Mix one packet of Toki Collagen powder in 8 fl. oz. of water or your favorite hot or cold beverage.  Dissolve liquid before adding ice.
Take 3 times a day for the first 30 days.  Then twice a day thereafter.  For best results, take at meal time.
Store in a cool, dry place.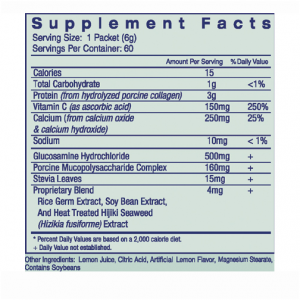 Toki is a Collagen drink powder that contains three essential nutrients: Active Collagen, AAACa Calcium and Mucopolysaccharide complex. Because it is taken internally, Toki can deliver these nutrients to the dermis (second layer of the skin) via the body's blood supply, to diminish fine lines and wrinkles, reduce the appearance of patchy skin discolorations, and give your skin a healthy, radiant tone.*
Toki works where creams cannot reach
Traveling through the bloodstream, Toki brings nourishment to cells deep down where no topical application can reach. Like water from an underground spring, the nutrients in Toki are absorbed into the dermis, and parched cells begin springing back to life as Toki nourishes and replenishes from within.*
Crow's feet diminish…
Dark spots fade…
The beautiful women of Japan don't need needles or cosmetic surgery to have radiant, youthful skin. And neither do you! A few years ago I learned how Japanese achieve such glorious skin. I could hardly believe how simple it is. Two or three times a day, every day, thousands of "toki" women in Japan open a packet of snow white crystals, mix it with tea, fruit juice or fresh, pure water, and literally drink there wrinkles away. No needles, no scalpels, no costly creams or lotions.*

Linda Page, N.D. PhD Author of Healthy Healing: A Guide to Self-Healng for Everyone (12th Edition)
Toki has been Featured in:
The Science of Toki
The skin is divided in 2 main portions; the upper layer is the Epidermis and the lower layer is the Dermis. The bottom layer of the Epidermis is where pigment-producing cells live (melanocytes), where our skin color is produced as well as less desirable skin tones and overall skin discolorations (freckles, dark spots). These can also be due to sun damage.
The Dermis goes through many changes in the aging process. The Dermis is where the capillaries that bring blood flow to the skin live. When Collagen and Elastin fibers begin to break down, it may lead to skin weakness, or sagging (fine wrinkles lines). The overuse of facial muscle will also cause deep wrinkles (squinting, frowning, smiling). Because Toki is taken internally, it can help deliver nutrients to the dermis (lower layer). The result: A total body solution that supports a youthful appearance.*
Absorption of Toki Measured by Blood Collagen Assay
Absorption of collagen form Toki was assessed by measuring levels of serum collagen. Hydroxyproline (amino acid component of collagen) levels were measured and converted to equivalent levels of porcine collagen. Serum collagen levels were tested at baseline, study day 15 and study day 30. A statistically significant increase in hydroxyproline was observed at both day 15 and day 30 as compared to baseline, suggesting a high rate of absorption of Toki collagen.*