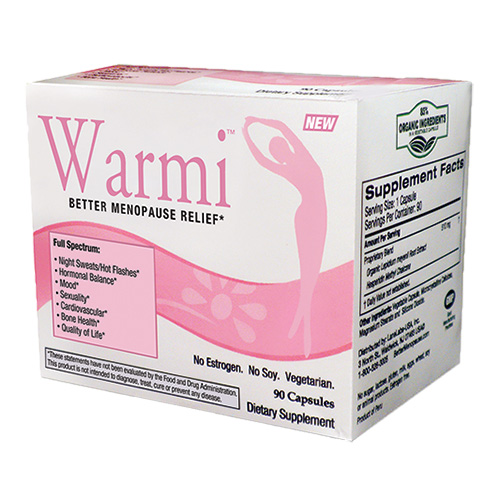 Warmi™
90 Capsules
1 to 5 Bottles
YOUR PRICE: $26.95
YOU SAVE: 18%
6 Bottles or More
YOU SAVE: $2 per bottle
YOU SAVE: 24%
Retail Price: $32.95
$26.95
SAVE EVEN MORE BY BECOMING A VIP
Warmi…. Better menopause relief*
Description
Warmi provides safe, natural, full spectrum menopause relief. Warmi is a unique vegetable and fruit extract supplement, containing 85% organic ingredients in a vegetable capsule. It's been clinically tested safe and effective in over 200 women. With Warmi, women experienced fewer hot flashes, night sweats, more balanced hormones, calmer moods, less vaginal dryness, less intercourse discomfort and greater sexual arousal!  Who can ask for more than that in one extraordinary product!   And the best part is that Warmi is estrogen free with no hormones, soy isoflavones, lactose, dairy or gluten.*
WARMI

Better Menopause and Post-Menopause Relief….Finally!*
– FEWER Hot Flashes/Night Sweats!*
– BALANCED Hormones!*
– CALMER Mood!*
– STRONGER Bones!*
– HEALTHIER Heart!*
– LESS Vaginal Dryness!*
– LESS Intercourse Pain!*
– GREATER Arousal and Sexuality!*
– BETTER Fantasies!*
– MORE Orgasms!*
Millions of women feel out of sorts – or downright miserable – during menopause.  And then during post menopause, many women feel their life is over….their sex life anyway!
Well, it doesn't have to be that way. Menopause and post-menopause should be a positive experience. 
Warmi….is finally here!
700 years ago, high in the Peruvian Andes, Incan women (called "warmi" in their native tongue) shared secret knowledge of a remarkable plant!   Today, scientific studies suggest that this plant, Lepidium meyenii (better known as Maca)  when blended with another fruit-based ingredient called hesperidin, can help with many symptoms familiar to menopausal and post-menopausal women!*
In one double-blind, placebo controlled clinical study, Warmi demonstrated significant improvements in both overall quality of life and sexual quality of life in as little as 30 days!  Other studies have confirmed its safety and effectiveness. The research also suggests that it works for both menopausal and post-menopausal women.*
Warmi is 85% Organic, 100% Vegetarian.
Warmi contains a proprietary blend of two plant extracts. One is vegetable sterol comprised of glucosinates and beta-sitosterol. The other is citrus flavonoid called hesperidin. Warmi ingredients are 85% organic in  a vegetable capsule. Organic products are grown without synthetic chemicals or pesticides. They are not exposed to irradiation or sewage sludge.
Full Spectrum Benefits.
Two studies found Warmi helpful for a broad range of menopause and post-menopause symptoms, including hot flashes, mood, heart health and sexuality.  In one trial, Warmi also enhanced hormonal balance, bone health, vaginal dryness, intercourse discomfort – even overall quality of life.*
None of the Bad Stuff.
Warmi contains NO estrogen, NO soy, NO isoflavones and is vegetarian. It is also free of sugar, lactose, gluten, milk, eggs, wheat and animal ingredients. It may be ideal for those with certain food allergies or sensitive systems
Supplement Facts: Per 1 Capsule
Proprietary Blend 510mg: Organic Lepidium meyenii Root Extract, Hesperidin Methyl Chalcone.
Warmi features a proprietary, clinically-tested blend of plant compounds comprised of glucosinolates, ß-sitosterol (a vegetable sterol) and hesperidin (a citrus flavonoid).
Menopause
A study of 122 menopausal women found that Warmi significantly benefitted:
Hot flashes/night sweats*
Hormonal balance*
Cardiovascular*
Mood*
Bone Health*
Quality of Life*
Sexuality
The same study of 122 menopausal women found that Warmi significantly benefitted:
Arousal*
Vaginal Dryness*
Satisfaction*
Intercourse Discomfort*
Safety
Two studies, involving 53 women 18 to 40 years old and 54 menopausal women found Warmi to be safe, even at double the recommended daily intake.*
Response Time
Two studies of 54 and 122 women found that Warmi provided significant menopause symptom benefits in 30 days of use. Response time was not measured prior to 30 days of use.*
For doctor reviews click here
References
Maradiegue E, Rojas P A, Cabrera S, Rechkemmer A, Rojas J, Salvador J. Timoteo O, Galloso M. Caparó C. Warmi®´s effect on postmenopausal women: A multicentric, double-blind and randomized clinical trial. ≠
Nacha G, Curse R, Rojas PA, Villar M. Safety and tolerance of Warmi® in healthy adult women. ≠
Osorio J, Osorio A, Fernandez J, Cruz W, Moya E, Rojas PA, Brinkmann JA, Villar M. Estrogenic and hypolipidemic effects of Warmi® on menopausal women. ≠ ≠ Articles not yet published.
To compare research on menopause supplements click here